This is the homepage of Michael Horne. I am a web developer with over 20+ years of experience.
You can contact me using this form.
Development work
I currently program/code with a mixture of technologies including ColdFusion/CFML, jQuery, SQL and Bootstrap 4.
I work for The Case Centre which is an educational charity based at Cranfield University in Bedfordshire, UK. We sell business/management case studies to business schools, mostly for their MBA programmes. We advocate The Case Method which is a way of teaching concepts and strategies in the field of business using case studies.
I thoroughly enjoy my work ("dream job" level) as it gives me the opportunity to develop new functionality around our extensive content library and feel like I'm making a difference to the accumulation of knowledge and skills around the world.
Hobbies
Raspberry Pi
I am involved in the Raspberry Pi community and co-organise Pi Wars, a Raspberry Pi robotics challenge competition that was created by myself and my friend Tim Richardson as an offshoot from the Cambridge Raspberry Jam. I also helped to create the CamJam EduKit electronic project kits with Tim.

You might be looking for my Raspberry Pi blog, Raspberry PiPod.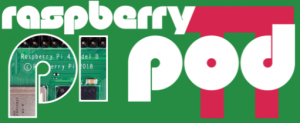 Theatre
I am also involved in amateur theatre, predominantly with Sharnbrook Mill Theatre where I perform in and direct plays and musicals. I also head up the Marketing Committee for the Mill and currently produce their production poster designs. I am a keen theatre-goer and try to get to see how the professionals do it as often as possible!

I have previously attended the ROSS Summer School and have been a member of several different amdram societies including Little Hadham Pantomime Group (where it all began!), Bishop's Stortford Musical Theatre Company, The Dunmow Players and ShowCo Bedford (now defunct).
Family
I live in Potton, Bedfordshire with my wife, Tracey and two step-children. Life hasn't always been easy, but we hold together in God's strength. The video below is In Memoriam to Daniel and Stephen Bocking, Tracey's other two children who were sadly taken from us, along with their father David, in 2008.